About Unpermitted Street Food
There are many common street food set ups that are not allowed in Los Angeles County because they pose a serious risk to health and safety. This type of unpermitted street food is different than permitted food trucks and carts. Unpermitted street food is done without proper equipment to ensure food is safely stored, prepared, and handled.
Grocery carts used as makeshift food carts, outdoor cooking equipment, tables and chairs on sidewalks, blocking the public right of way, and other common street food set ups are not allowed and cannot be permitted by Public Health. These types of unpermitted street food sales can pose a serious threat to public health and should be reported to Public Health.
Public Health responds to complaints about unpermitted street food in Los Angeles County.
Public Health is responsible for enforcing the California Retail Food Code in all of Los Angeles County except for those located in the cities of Pasadena, Long Beach, and Vernon. Those cities have their own health departments that enforce the Code within their jurisdiction.
Unpermitted street food cannot meet the requirements of the California Retail Food Code because of the conditions in which the food is stored, prepared, and handled. These requirements include:
Potable water for food handlers to wash their hands and utensils
Food obtained from approved sources
Potentially hazardous food must be held at safe temperatures
Proper equipment to keep food at the required temperatures
Sanitary conditions, such as keeping all food equipment clean
Keeping food protected from contamination or adulteration
Food handlers have access to a restroom
Food equipment is approved
For more details on all requirements see the California Retail Food Code Section 114395 (Misdemeanor violation) and our Food Trucks and Carts page.
Examples of Common Unpermitted Street Food Setups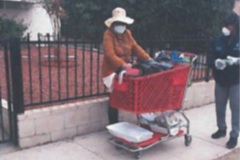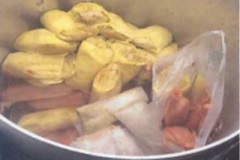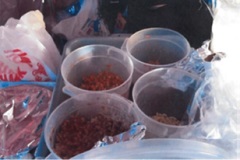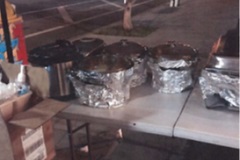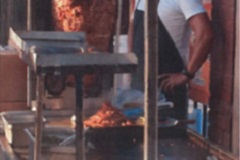 Report a Problem
To report unpermitted street food, call the Public Health Mobile Food Program at (626) 430-5500 or File a Complaint Online. It is helpful to be able to report details about the problem, such as exact location of the food sales, day and times of operation, and a description of what the vendor is doing.
Contact Us